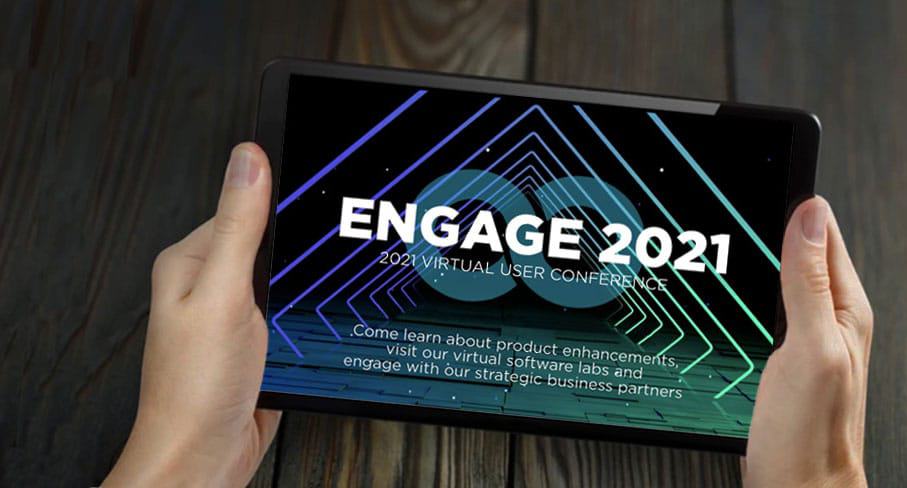 2021: USER CONFERENCES IN A VIRTUAL WORLD
Now is the time to re-engage your users: virtually.
MOVING USER CONFERENCES ONLINE
For software companies, real-world user conferences are crucial to connect users with your products.  They are the annual moment to educate your customers and prospective customers about new features and how your products or services will solve their challenges.  Unfortunately, the pandemic ground many of these events to a halt as planners thought that the health challenges would be shorter-lived. As the months went on, it became clear that large in-person groups weren't going to be realistic for the foreseeable future.
Yet technology keeps evolving and changing, leading to the dilemma of how to get that information in front of users to keep them interested and engaged—and able to interact with experts, try hands-on demos, and network and socialize. Bottom line: Postponing a user conference for another year—practically a lifetime in the software industry—is not to anyone's benefit.
Online Conferences & Hybrid Conferences
Turns out, these things can—and are—done effectively in a virtual or hybrid space. These are just a few examples of what in-person user conference components can be moved online (and are all events that metroConnections has expertise in):
Main stage and keynote presentations
Breakout sessions
Product labs
Exhibit booths for vendors and sponsors
Roundtables
Expert sessions
Networking events
Social events, including wine or beer tastings, mixology classes, or trivia contests
Companies that postponed conferences from fall 2020 to spring 2021 are now wondering if even fall 2021 is going to be safe to do in-person events. At this writing, it's unclear if vaccines and other remediation efforts would make that a possibility. Rather than lose valuable planning time waiting to see what happens with the pandemic, now is the time to commit to a virtual or hybrid experience instead.
Considering a Client Advisory Board
Something that many don't consider – but should – is tapping into a client advisory board (CAB). This group is made up of your top users and supporters, and they're likely to have strong opinions about what they want to see from your events. Asking them is not just a courtesy to show your appreciation; there can often be a disconnect between what planners think attendees want, and what the attendees actually do want. Consulting with a CAB can help you with direction for everything from how many days the event should be, how many hours per day, how long individual sessions should last, and how to balance the main stage general sessions, breakouts, social and networking events, and product labs.
Cost can also be a key topic when moving your conference virtually.  Since user conference expenses are frequently offset by various revenue drivers, it is important to factor in how you will generate revenue with a virtual conference.  Of course, attendees will still pay a fee to attend. But other real-world drivers are also possible online, including:
Banner ads on the event site
Commercials prior to the general session
Recognition in the evening's virtual social event
Virtual exhibit booths
Just as with in-person events, sponsorship packages can be put together that bundle a variety of opportunities at different price points, giving sponsors choices of how to contribute to the event.
The possibilities for an online user conference are as myriad as for in-person. Contact metroConnections to learn what capabilities and experiences we have in this area that can make your user conference as dynamic and vital as an in-person event.
Build a virtual or hybrid conference completely customized to your company's needs. metroConnections can take your conference from strategy to execution. Contact us today to discuss your virtual user conference needs.
Connect with us today to discuss moving your user conference online.